15 Best Video Editing Apps That Will Make Your Life Easier!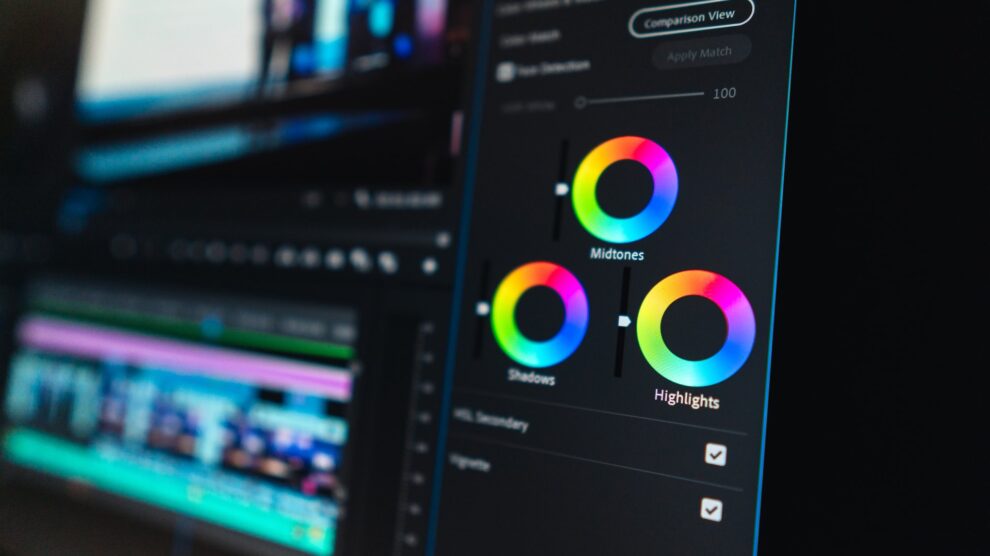 Video content is in full bloom. Whether it's for marketing or entertainment purposes.
And as per Wyzowl, 86% of businesses consider video as a strong marketing tool. If we talk about the ROIs of video content, 78% of video marketers claim that has helped them boost their sales.
There's no doubt that it's tough to sit down with a laptop and put in all your effort and time to edit a footage to turn it into an eye-catching video. But 69% of people say that they'd prefer to watch a video from a brand to learn about a product/service.
There are dozens of free or budget-friendly video editing apps out there that can be used to create professional-quality & captivating videos on your smartphone or tablet.
Let's take a look at the top 15 video editing apps that you can use to create stunning videos on your own: 
1. Adobe Premier Rush
Adobe Premier Rush tops the list of the 15 best video editing apps to use. This app combines several powerful features from Adobe Premiere Pro, Adobe Audition and Adobe After Effects for flawless editing.
Its powerful video editing tools allow you to create videos that look as well as sound  professional. It is free but if you upgrade it, you get access to all the premium features with hundreds of sound effects, sound tracks, overlays, animated titles, and much more.
Features:
Built-in camera allows you to capture pro-quality videos
Offers multiple video tracks to create stunning video effects like split-video
You can pan, crop or zoom, adjust the speed of your video
You can resize your footage to different ratios such as 4:5, portrait, square, etc.
Share your videos to platforms like TikTok, Facebook & Instagram in just a single click
Enhance the cooler of your videos using intuitive presets and customization tools
Available on: Android & iOS
2. GoPro Quik App
Quik App is a free-to-use video editing app developed by the makers of GoPro. It's a well-crafted app that allows users to quickly capture, edit, create and publish stunning videos.
Quik takes your best shots from your camera roll, email, text threads, etc. and enables you to edit videos at the fastest speed. However, it also allows you to manually edit your videos if you wish to have more control over your editing.
Features: 
Powerful editing tools, attractive filters & transitions along with stylistic themes
The Speed Tool allows you to have full control of your video speed
Capture a frame from any video using Frame Grab
Allows you to use your smartphone as a remote control for your GoPro
Share videos to your social media accounts instantly
Allows you to broadcast your work live
Available on: Android & iOS
3. InShot App
An all-in-one video editing tool, InShot lets you edit videos and photos as well as create image collages too. The app comes with plenty of powerful features and you can trim, cut, merge your videos or even adjust their speed.
Features: 
Offers a variety of cinematic filters, transitions and effects like beats, glitch, noise, and more to make your video eye-catching
Lets you add your own voiceover as well as different sound effects
Offers chroma key/green screen for a more creative work
You can add text and stickers to photos for more fun
Save videos in 4K resolution
Available on: Android & iOS
4. KineMaster
KineMaster features an intuitive interface which makes it a lot easier to edit & create videos as you would prefer on desktop video editing software.
It offers a wide range of powerful tools and downloadable assets while allowing you to create stunning videos.
Features: 
Offers tools to cut, crop and splice your videos
Over 2,500 downloadable effects, transitions, stickers, videos, animations, fonts, images, etc.
Allows you to add music, sound effects, voiceover
Reverse, speed-up or add slow-motion to your videos
Colour filters and colour adjustments to make your videos stand out
Save videos in 4K 2160p at 30FPS
Upload videos to social media platforms like Facebook, Instagram & YouTube
Import & Export project files
Available on: Android & iOS
5. PicPlayPost 
PicPlayPost is the best video collage maker and slideshow maker, allowing you to create attractive video collages, slideshows as well as live wallpapers.
It offers pro-video quality without any confusing tools which makes it perfect for people who are looking for something to narrate a separate footage.
Features: 
Allows you to trim, speed up or slow down your videos
Add multiple songs, voiceovers to your videos
Share videos in 1080p
Create scrolling horizontally or vertically videos
Create up to 9 frame photo & video collages
Make multi-collage slideshows specially designed transitions
Offers up to 9 frame live collages for Wallpaper
Choose from a wide range of transitions for creating slideshows
Available on: Android & iOS
6. Videoshop
Videoshop is a great free video editing app equipped with a vast variety of editing tools, effects and filters for personalizing videos. The interface is quite simple and allows quicker and easier video editing.
Features: 
Easily trim, resize or merge multiple video clips into one
Record your own voiceover, add music or sound effects to your videos
Choose from a variety of animated titles, filters and transitions to make your videos more appealing
Apply illusionary effects using the Distort tool
Screen capture any part of your videos
Pin stickers, type your own text
Allows you to add video over video to give a layered effect
Share to numerous platforms such as Facebook, Instagram, Snapchat, Vimeo, YouTube, etc
Available on: Android & iOS
7. Horizon 
Horizon is the most suitable app for capturing horizontal videos no matter what the position of your smartphone is. All footage is recorded horizontally, regardless of how your device is tilted.
It's a perfect app for those who're in a rush to capture a video with no time to organize and set things properly.
Features: 
Detects the angle of your iPhone or iPad automatically and adjusts the horizontal level for you to begin shooting immediately
Choose from a selection of filters like Retro, Nightowl and Movie to add some creative touches to your videos
The Flex mode allows you to automatically zoom in and out as per your angle
Drag-and-drop to save your videos and photos
Allows you to share your videos on different social media networks
8. WeVideo 
WeVideo leads the race when it comes to cloud-based video editing applications. It is software-accessed and you don't have to add it to your device.
The free version offers a variety of editing tools, but you can upgrade to the premium version for additional features.
Features: 
Includes timeline editor, colour filters, new animated texts, split clips, undo/redo, support for multiple audio clips, and more
Arrange, cut or trim your videos in any order you want
Enhance your video by adding sound effects, music or voice overs
Access an extensive library full of filters, transitions, royalty-free video clips, royalty-free music tracks, photos, as well as fonts, motion titles, etc.
Green screen effect to change the background of your videos
The Ken Burns effect allows you to get photos to come alive
Publish your finished videos in up to 4K Ultra HD
Share your videos on various social media sites like TikTok, Facebook, Instagram & Snapchat
Available on: Android & iOS
9. Splice – Video Editor & Maker
Splice is one of the most widely used apps by iPhone and iPad users. You can create beautiful, professional-looking videos using powerful tools offered by the application.
As the name suggests, Splice lets users splice various clips together to form a captivating video. Also, the interface of this app is quite simple and intuitive.
Features: 
Trim, cut, crop, refine or even adjust the speed of your videos
Apply different filters, effects, transitions styles to give your videos a more realistic effect
Overlay photos/videos as well as apply masks to create stunning effects
Offers more than 6,000 royalty-free sound tracks or you can also add voiceover or a song from your iTunes collection
Create slideshows with pan/zoom effects
Use Chroma Key to remove the background
Easily share your videos to numerous platforms like Facebook, YouTube, Instagram, TikTok, etc
Available: only on iOS
10. VideoShow 
VideoShow is a trendy video editor which not only creates videos but also slideshows using images, photos, music, sound effects, etc. VideoShow has a simple interface which makes it ideal for beginners.
Features: 
Offers custom cover, video overlay, PIP, mosaic, scroll text, and more
Offers hundreds of video templates for easily creating attractive videos
Has a range of cool filters, themes and effects to make visually-appealing videos
A variety of text styles, fonts, outline colours and opacity
Hundreds of fully licensed music tracks
Record and upload your own voice to your videos
Export your videos in 720P/1080P HD without any time limitations
Let's you merge, trim, cut, split, duplicate, reverse, rotate, convert, flip and dub your videos
Available on: Android & iOS
11. Vivovideo
Vivovideo is another super video editing app which is popular among creators who create content for social media. All you have to do is create a new video or upload an old one, select a time range, beginning & ending.
It is the best platform to create stunning animated GIFs from photos and videos that you already have.
Features: 
Cut, crop, trim, merge and edit your video clips easily
Edit GIFs with a wide variety of filters and effects
Add text and stickers to your GIFs
Add frames to your GIFs
Lets you export all GIF images
Share your GIFs on GIPHY
Save GIFs to your smartphone
Available on: Android & iOS
12. Magisto
An award-winning video editing app, Magisto lets you turn your photos and video clips into captivating videos, music slideshows, collages, and more.
The app uses AI (Artificial Intelligence) to edit & create your videos. It offers different editing styles like Country, Traveller, Love, Memories & Fashion. The app works exceptionally well in creating eye-catching and professional-looking Instagram videos.
Besides the free plan, Magisto offers Premium and Professional plans for monthly charges.
Features: 
A variety of filters, effects, graphics and music to tell your stories in a more appealing manner
Offers ready-made templates for different occasions like Birthdays, Anniversaries, Invites, etc.
Merge, trim, cut or reorder your videos
Choice of fonts, text, and colours to customize your videos as per your taste & style
An expansive fully-licensed song library
Share your finished videos on social media, email or even messaging apps
Available on: Android & iOS
13. iMovie
iMovie is one of the most popular video editing tools available for iOS users. It's absolutely free. The interface is simple & streamlined, as well as intuitive with a drag-and-drop feature that makes your job easy. iMovie is packed with all the basic editing tools that are required to create an impressive video.
Features: 
14 trailers templates with beautiful graphics and scores created by some of the top film composers
8 different themes with matching transitions, titles and music
11 animated title styles such as Reveal, Split or Pop-up
More than 80 soundtracks. Add sound effects, songs as well as voiceover
Picture-in-picture, split screen and green screen effects
Save your videos in up to 4K resolution at 60 frames per second
Upload your videos to various social media networks
Available on: on iOS
14. Filmmaker Pro
Filmmaker Pro is the best editing tool when it comes to managing, sharing and exporting underlying assets in projects. There are plenty of features in the free version, but, if you wish to access all the advanced features, you will have to pay a fee.
Features: 
A colour coded timeline viewing which makes it easy to find the assets and manage the timeline
Trim, split, duplicate your videos or even adjust the speed
39 transitions and 30 specially-designed filter options to choose from
Offers chroma key, photo motion, Picture-in-Picture video, Ken Burns effect, Reverse video tool, and more
A wide range of custom-made music tracks and sound effects
A wide collection of fonts along with 9 standard text animation styles
A variety of illustrations and stickers
The drawing tool lets you choose the brush size, colour and opacity
Available on: iOS
15. LumaFusion
LumaFusion is a multi-track video editing app which is popular among filmmakers, video producers and creators. It provides a compelling & intuitive storytelling environment to create captivating videos.
It is the most favourite editing apps of iOS users. It is packed with numerous powerful features.
Features: 
Cut, copy and paste in your timeline as well as between projects with Multiselect tool
Edit with the advanced magnetic timeline
Preset transitions
A variety of layer effects as well chroma keys, distort, blur
Animate with unlimited keyframes
Allows you to create multilayer titles with images and shapes
Create projects with a wide range of aspect ratios
Dozens of royalty-free music tracks as well as videos
Share movies with control over quality, resolution and format
Available on: iOS
Wrapping Up
Creating captivating & engaging video content can be really challenging at times. Therefore, it is important to use the right kind of editing tools which help in producing eye-catching videos, but which at the same time are simple and intuitive.
The above guide will help you select the best video editing app to create compelling videos for your next project.