Online casinos entertainment business industry
In the past few years, there has been a huge rise in the number of people who play games online. More and more people are turning to online casinos, sportsbooks, and other forms of online gambling for fun. One of the biggest problems in the industry, though, has been the lack of safe and reliable ways to pay. eDataPay can help with this.
The iGaming industry, which is what people call the business of online casino entertainment, has grown a lot in the last few years. There are many types of online gambling in this industry, such as casino games, sports betting, and poker. By 2024, the market for online gambling is expected to be worth about $94 billion, with casino games bringing in the most money.
eDataPay is a payment gateway and global banking service that was made especially for the online gaming industry. With eDataPay, online casinos and other gaming sites can easily and safely take payments from players all over the world without having to worry about chargebacks or other problems.
One of the best things about eDataPay is that it has tools for sending money. The company has a variety of payout options, such as ewallets, international wires, and USDC crypto currency payouts. This makes it easy for online gaming sites to pay out winnings to players quickly and easily.
The market for online games is growing quickly, and more and more people are looking for fun and easy ways to gamble online. eDataPay is the leading payment gateway and global banking provider for the gaming industry. They offer a wide range of services to online casinos, sportsbooks, and other gaming operators.
One of the best things about eDataPay is that you can quickly and safely process payments. Our payment gateway works with all of the major credit card companies and can easily handle a lot of transactions. This makes sure that your players can quickly and easily make deposits and withdrawals.
eDataPay also offers a number of other services, such as fraud prevention and compliance, so that online gaming operators can focus on running their businesses instead of worrying about the complexities of payment processing.
The company has also teamed up with a number of major banks to give online gaming operators more security and reliability. This means that operators can be sure that their payments are being processed quickly and safely.
eDataPay is also committed to following all laws and rules that have to do with the online gaming business. This means that operators can be sure that the payment gateway they use meets all of the legal requirements for the industry.
Overall, eDataPay changes the way online games are played. It helps online casinos, sportsbooks, and other gaming operators grow their businesses and reach more players around the world by providing a variety of remittance tools, expertise in compliance, and partnerships with leading banks.
If you run an online gaming site and want a safe and reliable way to accept payments, eDataPay is the best option. Contact us right away to find out more about our services and how we can help your business grow.
Online casinos are also known for their cutting-edge technology, like virtual reality and blockchain. Virtual reality lets players feel like they are really in a casino, and blockchain technology makes sure that all transactions are safe and clear. Online casinos are different from traditional casinos in a lot of ways, but these changes help to set them apart.
The iGaming industry is a global business, with players coming from all over the world to play at online casinos. But it's important to remember that each country has its own rules and laws. For example, in the United States, the federal government has always been against online gambling. But the Supreme Court's decision in the case of Murphy v. NCAA in 2018 to overturn a federal law that most states had used to ban sports betting has made it possible for more states to legalize online sports betting.
Even though online casinos face problems, the industry is likely to keep growing in the years to come. As technology keeps getting better and more countries make online gambling legal, the online casino entertainment business will keep giving gamblers a safe, fun, and easy way to play.
In the online casino business, it's important to make sure you're dealing with a reputable and licensed operator. Look for casinos that have valid licenses from reputable regulatory bodies like the Malta Gaming Authority or Curacao eGaming. Also, it's best to work with payment processors who have a good name and a lot of experience in the field. This can help you stay in line with the rules of the field.
In conclusion, the online casino business is an exciting part of the entertainment business that is growing quickly. It gives players a fun and easy way to gamble with a wide range of games, bonuses and promotions, and cutting-edge technology. But it's important to make sure you're working with licensed, trustworthy operators and to know the rules and laws of your country.
Are you a company that runs online games and needs a reliable payment processor? eDataPay is all you need. We offer many ways to send money, such as e-wallets, international wires, and USDC crypto payouts, to make sure that your transactions are safe and quick. Trust us to handle all of your payment needs for online gaming. Call us today to find out more.
Partner with eDataPay for all your payment processing needs and join the ranks of successful online game operators.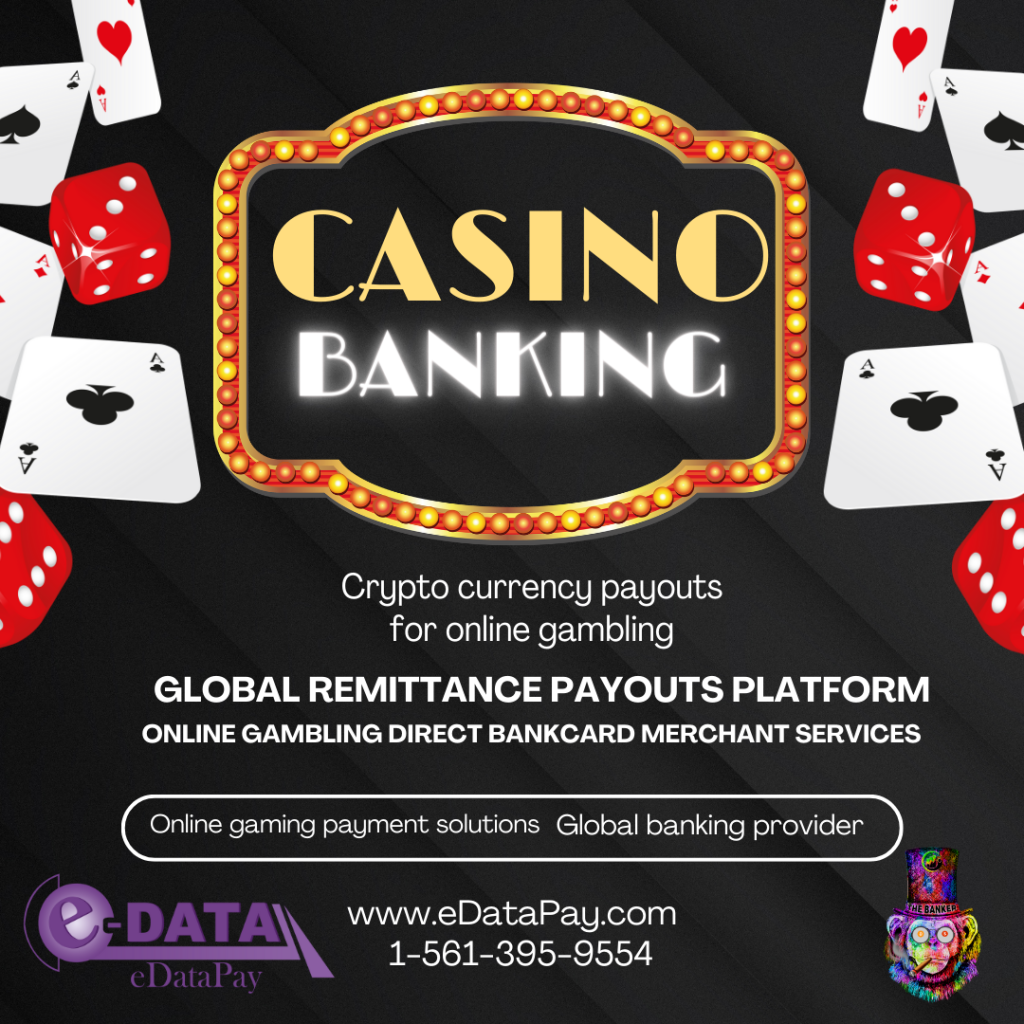 Are you an online gaming operator looking for a reliable payment processor? Look no further than eDataPay. We offer a variety of remittance tools, including ewallets, international wires, and USDC crypto payouts, to ensure your transactions are secure and efficient. Trust us to handle all of your online gaming payment needs. Contact us today to learn more
+1-561-395-9554
https://www.facebook.com/edatapay