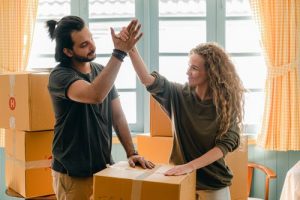 With a market worth more than $28 billion, the moving sector is vital. The necessity for credit card processing and other payment alternatives is obvious with tens of thousands of moving companies hauling products.
Unfortunately, many banks and credit card processors regard moving and transportation companies as "high risk," and refuse to give merchant services to them.
By contrast, eDataPay and its skilled banking team are happy to provide merchant services for moving and transportation companies. We value the services given by all types of businesses in the industry, including those who ship goods, move various objects, and facilitate residential relocation, among other things.
eDataPay Merchant Services for Moving companies include :
Traditional home and office movers, booking agents, carriers, local and long-distance transportation companies, high value transporters, auto transporters, PBO transporters, van operators, logistics and warehouse companies, web and app based technology companies, and many others use eDataPay Merchant Services for Moving companies.
Custom one-of-a-kind high-ticket items are available from movers and transportation businesses. Even a typical office transfer or small boat transport, for example, necessitates a custom cost proposal in the hundreds to tens of thousands of dollars. One-time high-ticket credit card sales are especially vulnerable to "friendly fraud," in which customers use the service but charge it back in order to acquire it for free.
It might be dangerous to move or carry goods. Things break throughout the process of a transfer, or a customer's goods aren't delivered in the exact manner that was expected. Unfortunately, this opens the door to additional consumer disputes, increasing the danger of chargebacks.
Even carriers linked with huge national moving corporations are frequently run on a local or franchise basis. These are small or mid-sized firms who are exposed to severe chargeback liability and lack the capabilities to fulfill orders in the event of a crisis.
Credit card payments are frequently accepted over the phone by transporters using a virtual terminal. Because this type of card acceptance isn't done face to face, it's more vulnerable to outright fraud than retail purchases.
Obtaining Merchant Services In A High-Risk Industry
Knowing what you know now about why it is so difficult to secure a moving company or transportation merchant account, you can try your luck waiting for approvals at traditional low risk processors, only to get declined repeatedly, or you can go with a merchant service provider that specializes in high-risk industries.
Applying for your moving company credit card processing account can be a long process. You will be expected to submit numerous forms of ID, business records, tax information, and more. On top of that, many processors will tack on an application fee, sometimes as much as $300, which will not be refunded if your application is denied.
Here at EdataPay Payments, we specialize in catering to high-risk businesses like yours. Our goal is to provide you with the transportation payment processing you need to do business and serve your customers. No application fees, no hidden costs or contracts. When working with an experienced high risk merchant account provider like EdataPay Payments, you can expect;
A Timely Quote On Processing Fees
When you contact us, you'll be assigned to one of our high risk account specialists who will go over your businesses details immediately. We do not make you wait. A representative will present you with a quote on the same day or sooner. You will not be forced to jump through hoops or lead astray, we will tell you your rates, approval odds and your merchant account options upfront and honestly.
The Lowest Pricing For Your Industry
While there may be other high risk credit card processors in the industry, a lot of them prey on the desperate and charge processing rates 5 to 10 times higher than normal. We can offer rates that are much more competitive.
Responsive, Proactive Customer Support
When you contact us, we get back to you as soon as possible. We work with many high-risk businesses, and we know how frustrating it can be to deal with big faceless corporations.
To get approved for a merchant account in 24 to 48 hours
Apply Here Today!!!  or call +1-561-395-9554 
Text-What's Up: +1-561-212-3370
Get In Touch with eDataPay Banking Specialist:
https://edatapay.com/application-form
Phone:
+1-888-395-9554
Fax:
+1-888-909-0138
Email:
info@eDataPay.com
US Mailings Address:
20423 State Road 7, Suite F6-524, Boca Raton, Florida, 33498 USA.
INTERESTED IN LEARNING MORE ABOUT HOW EDATAPAY GROUP CAN BENEFIT YOUR BUSINESS?
Direct text me: 561-212-3370  Adam
Some great offers by eDataPay group Team
FREE POS TERMINAL PROGRAM
SAME DAY PAYOUT (OR WITHIN 3 HOURS)
BEST RATES OR 0% PROCESSING FEES
FREE 30 DAYS SOCIAL MEDIA PACKAGE 101
FREE GOOGLE LOCAL LISTING AND LINKS