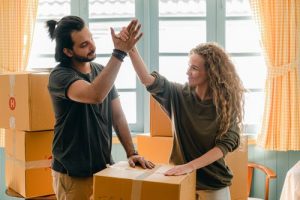 The necessity for credit card processing and other payment alternatives is obvious with tens of thousands of moving companies hauling products.
Many local banks and credit card processors see the moving and shipping industry as "high risk," and many will not tolerate any chargebacks or companions. As a result, several large bankcard companies refuse to give merchant services to moving companies and brokers.
late last year Visa/MasterCard has raised their rates for processing credit card transactions again. And we were making a courtesy call to businesses in the area to offer a FREE rate analysis of your credit card processing fees. We've found that we can usually save business
owners 20-30% on their processing, is that something that would interest you?
eDataPay Payments Banking providers are available and willing to collaborate with you, offering competitive rates, reserve or no reserve, and an additional merchant account as a primary requirement. We're seeing an increasing number of clients with three to four merchant accounts.
Traditional home and office movers, booking agents, carriers, local and long-distance transportation companies, high value transporters, auto transporters, PBO transporters, van operators, logistics and warehouse companies, web and app based technology companies, and others will all work with eDataPay.
The eDataPay team is pleased to provide moving and transportation companies with merchant services. We value the services given by all types of businesses in the industry, including those who ship goods, move various objects, and facilitate residential relocation, among other things.
Many CRMs and Softer providers, including SAAS companies, use the eDataPay Payment Gateway: CRM and software platforms commonly used by moving companies, such as Elromco, MovePoint, and MoveNinja, are examples. Granot, Move Pro, MoverWorX, Soffront, Netensity, Zoho CRM, and Salesforce are just a few of the CRM and software suites we're compatible with.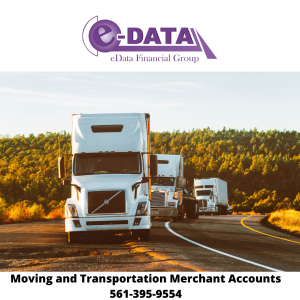 Transporters sales team frequently use eDataPay's virtual terminal to receive credit card payments over the phone.
Because this type of card acceptance isn't done face to face, it's more vulnerable to outright fraud than retail purchases.
Obtain more Merchant accounts today to expand your competence and capacity.
Moving and transportation firms who provide the greatest customer service will continue to have the top evaluations and achieve the most success.
Payments are an important component of that seamless experience… and in the end, the superior payment technology will triumph.
Let eDataPay Payments Be Your Credit Processing Solution
Your industry has enormous potential! With the real estate market in an upswing, and gas prices at their lowest in decades, demand for your services is rising. Unlike the big box, generic credit card processing companies, we want to be a part of your success. Apply for your moving company payment processing today, and get things moving!
eDataPay Payments Is Built To Serve Your Industry
As a leading payment processing company offering transportation credit card processing to businesses like yours, we take pride in catering to our high risk merchants. Not only do we work with businesses deemed too "high risk" by other processors, eDataPay Payments offers top notch services like same day or instant funding, 24/7 customer support, mobile card processing and integration for your existing processing equipment. The idea is to provide no holds bar merchant services that, not only let you accept credit card payments, but also allow you to have a processing solution customized to fit YOUR needs. By specializing in high-risk industries, we are knowledge about the struggles facing moving and transportation businesses and how to avoid and remedy them.
A Moving Company Payment Processing With EdataPay Payments Means;
Accept all payment types from major credit card brands (VISA, MasterCard, Discover and American Express): Never turn away a client because of unsupported processing
Accept credit card processing on the go or at a job location with our mobile credit card processing for moving companies
Integrate with your existing payment gateway or terminal. If you need new equipment, we offer wholesale pricing
Competitive fees and low rates: Our fees and rates will always be competitive because we know that you have options
Multiple merchant accounts: If you need a higher monthly processing volume, we can get you approved at multiple solutions and set up multi MID switching
High-level PCI compliant security and encrypted transaction. Keep your clients and your business safe
Round the clock support: We excel where the big credit processing companies drop the ball, 24/7 US based customer support and no long holds waiting for someone to pick up
Easy and responsive applications: Unlike other credit card processors, we will give you updates on your application as they happen. Get approved in as little as 24 hours
There are many other products you can lead with such as:
• PCI Security
• Website Development
• Age Verification
• Time and Attendance
• Bankcard Supplies
• Online Food Delivery
• POS Equipment
• SURVEY'S
– 28 –
• NEW LEGISLATION
The list goes on and on. Just try several approaches and see what works best
for.
INTERESTED IN LEARNING MORE ABOUT HOW EDATAPAY GROUP CAN BENEFIT YOUR BUSINESS?
Call :888-395-9554.
Direct text me: 561-212-3370
Some great offers by eDataPay group Team
FREE POS TERMINAL PROGRAM
SAME DAY PAYOUT (OR WITHIN 3 HOURS)
BEST RATES OR 0% PROCESSING FEES
FREE 30 DAYS SOCIAL MEDIA PACKAGE 101
FREE GOOGLE LOCAL LISTING AND LINKS