FOR IMMEDIATE RELEASE
eDataPay Strengthens Global Merchant Services through
Strategic Bank Partnerships
[Boca Raton, Florida, 8/5/2023]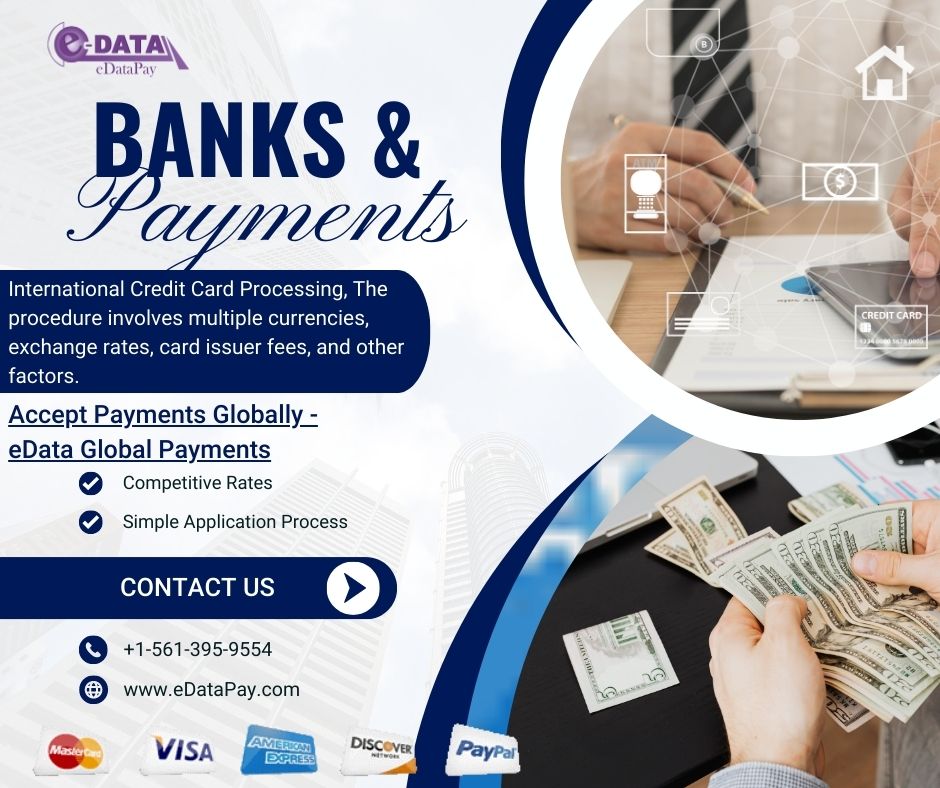 eDataPay, a frontrunner in payment processing solutions, unveils transformative
collaborations with esteemed international banks, signaling a pivotal shift in
the landscape of merchant services. With an unwavering commitment to delivering
seamless transactions, eDataPay joins forces with premier financial
institutions to empower European merchants, US merchants, and Asian credit card
processing companies.
International Credit Card Processing

eDataPay's innovative approach to enhancing its merchant
services portfolio takes center stage as strategic partnerships with prominent
international banks are unveiled. These alliances are poised to revolutionize
the way businesses manage transactions across diverse regions.
Elevating European Merchant Experiences
In a strategic partnership with a distinguished European
bank, eDataPay introduces a host of advantages for European merchants. Seamlessly
merging cutting-edge technology and personalized support, this collaboration
ensures swift, secure, and frictionless payment processing. European merchants
now possess the tools to expand their market reach while benefitting from a
robust payment ecosystem that enhances both customer experiences and business
growth.
Empowering US Merchants with Unparalleled Solutions
Teaming up with a leading US bank, eDataPay pioneers a
transformative approach to payment processing for US merchants. This strategic
alliance introduces a suite of innovative payment solutions that transcend
conventional boundaries. Boasting seamless payment gateways, comprehensive
reporting tools, and responsive customer support, US merchants are poised to
elevate their operational efficiency and enrich customer satisfaction.
Reshaping Asian Credit Card Processing Landscape
eDataPay's collaboration with one of Asia's largest banks
heralds a new era for credit card processing companies across the region. With
an emphasis on innovation and reliability, this partnership equips credit card
processing entities with state-of-the-art tools, enabling them to provide
secure and efficient payment solutions. This strategic alliance is set to
redefine the dynamics of credit card processing in Asia, ensuring businesses
remain competitive in a rapidly evolving digital landscape.
"Our announcement of these strategic partnerships
underscores our unwavering commitment to delivering cutting-edge payment
solutions globally," asserted [Spokesperson's Name], [Title] at eDataPay.
"[Spokesperson's Last Name] continued, "We envision these
collaborations not only reinforcing our industry presence but also empowering
businesses with the resources they need to flourish in today's dynamic
marketplace."
Through these transformative partnerships, eDataPay affirms
its mission to equip businesses with secure, innovative, and dependable payment
processing solutions that drive growth and success.
To learn more about eDataPay's pioneering partnerships and
its commitment to advancing merchant services, please visit www.edatapay.com or
contact Adam Elisha at info@edatapay.com
.
About eDataPay:
eDataPay stands as a global leader in payment processing
solutions, catering to businesses across industries and sizes. With an
unrelenting focus on innovation, security, and customer satisfaction, eDataPay
offers a comprehensive suite of payment processing services that empower
businesses to thrive in the digital era.
 Media Contact:
Adam Elisha
Management
info@edatapay.com
+1-561-395-9554