Elon Musk Twitter Project X and Digital Payments
Elon Musk's Twitter buy, Domain x.com Project X, and Digital Payments are all  back in the name future benefit of humanity.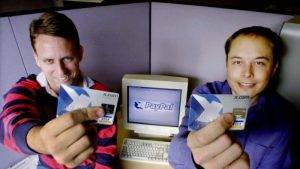 Musk is going to party like it's 1999 with his new toy called Twitter!!!
Well Well Well Indeed, PayPal Mafia has returned!!!
his plans to remake banking with a startup called X.com.
Elon Musk's ambitious plans for Twitter include a mysterious project codenamed 'X. Musk must now maintain his vision as a payment gay who founded PayPal in order to reach his true objective.
Twitter is a fantastic tool for networking. A robust Twitter presence will allow you to interact with those with whom you would otherwise have no contact. Some of these individuals may become business connections, possible partners, product suppliers, or even employees.
Utilize Twitter advertisements and the new membership is only the beginning.
Using paid advertisements on Twitter is a fantastic approach to reach your audience more directly than through organic reach. Promoted Tweets can rapidly boost your reach. Additionally, they enable users to discover your profile, even if they do not follow your brand or hashtags.
Sharing links to relevant content with your network – Unsurprising given the rapid rate of Twitter's reach. As soon as you discover anything linkable and intriguing, you may post it to Twitter and your network will be notified immediately.
Elon Musk has never had a modest ambition.
Jack Dorsey, Co-founder of Twitter, and Elon Musk both have experience in the field of digital payments. Dorsey is the CEO of Square, currently known as Block, whereas Musk was one among the original co-founders of PayPal.
The phrase "super app" was initially used to characterize WeChat, which is owned by the Chinese internet company Tencent and is extremely popular throughout China due to its diverse functionality. WeChat and other connected mini-apps "link every aspect of life in China," from "hailing a taxi, purchasing groceries, scheduling a doctor's appointment, and purchasing insurance," to "booking a doctor's appointment, purchasing insurance, and shopping groceries,"
Musk hinted during a town hall with Twitter employees earlier this year that he intended Twitter to follow in the footsteps of WeChat, stating "There is no WeChat equivalent outside of China" and "There is a tremendous chance to create that."
Elon Musk asserts that Twitter will eventually be included into X, the app for everything. "Buying Twitter is a catalyst for constructing X, the app for everything."
Return of the PayPal Mafia for digital Payments: Not surprisingly, we can already see the likely path Twitter will take to help these guys realize their aspirations.
Members of the PayPal Mafia featured in Fortune magazine were attired in gangster fashion. Jawed Karim, Jeremy Stoppelman, Andrew McCormack, Premal Shah, Luke Nosek, Ken Howery, David O. Sacks, Peter Thiel, Keith Rabois, Reid Hoffman, Max Levchin, Roelof Botha, and Russel Simmons, from left to right, top to bottom. Due to a scheduling difficulty, Elon Musk was unable to attend the session, however an individual portrait was taken for his profile.
As far as I can tell, all blockchain guys are…
It is unsurprising that Bitcoin (or a comparable decentralized application) has become the global monetary standard.
GET EDATAPAY PAYMENT PROCESSING FOR YOUR DENTAL PRACTICE RIGHT NOW?
Low Rates + Amazing Deals on New Equipment from the Leader in Payment Solutions.
Get high risk merchant accounts and nearly instant approvals for your ecommerce store.
High Risk Credit Card Processing Made Easy!
Apply today & start saving money tomorrow!
Call: 888-395-9554