eDataPay Launches Remittance and Specialty Wiring Payouts Platforms for Fiat and Crypto.
eDataPay is thrilled to introduce our latest payment solution – a cutting-edge remittance and Specialty Wiring payouts platform for Fiat and Crypto. Our platform aims to simplify and streamline the process of sending and receiving funds across borders, providing our clients with an easy and efficient way to manage their global payments.
With our remittance and Specialty Wiring payouts platform, clients can send money securely and at low cost, in real-time, 24/7, from anywhere in the world. Whether you need to send funds to friends and family or conduct business transactions, our platform is here to make your life easier.
Our platform is designed to be user-friendly and accessible to everyone, regardless of their technical abilities. We provide support in multiple languages, so you can communicate with us in a language you are comfortable with.
We also offer a wide range of payment options, including traditional wire transfers, electronic fund transfers, and cryptocurrency payments. Our goal is to provide you with the flexibility you need to manage your payments in the way that best suits your needs.
By using our remittance and Specialty Wiring payouts platform, you can rest assured that your payments are secure, with advanced KYC and AML processes in place to ensure that your funds are protected at all times.
At eDataPay, we believe that sending and receiving money should be a simple and hassle-free process. With our remittance and Specialty Wiring payouts platform, we are committed to making that a reality. So why wait? Sign up for our service today and experience the future of global payments.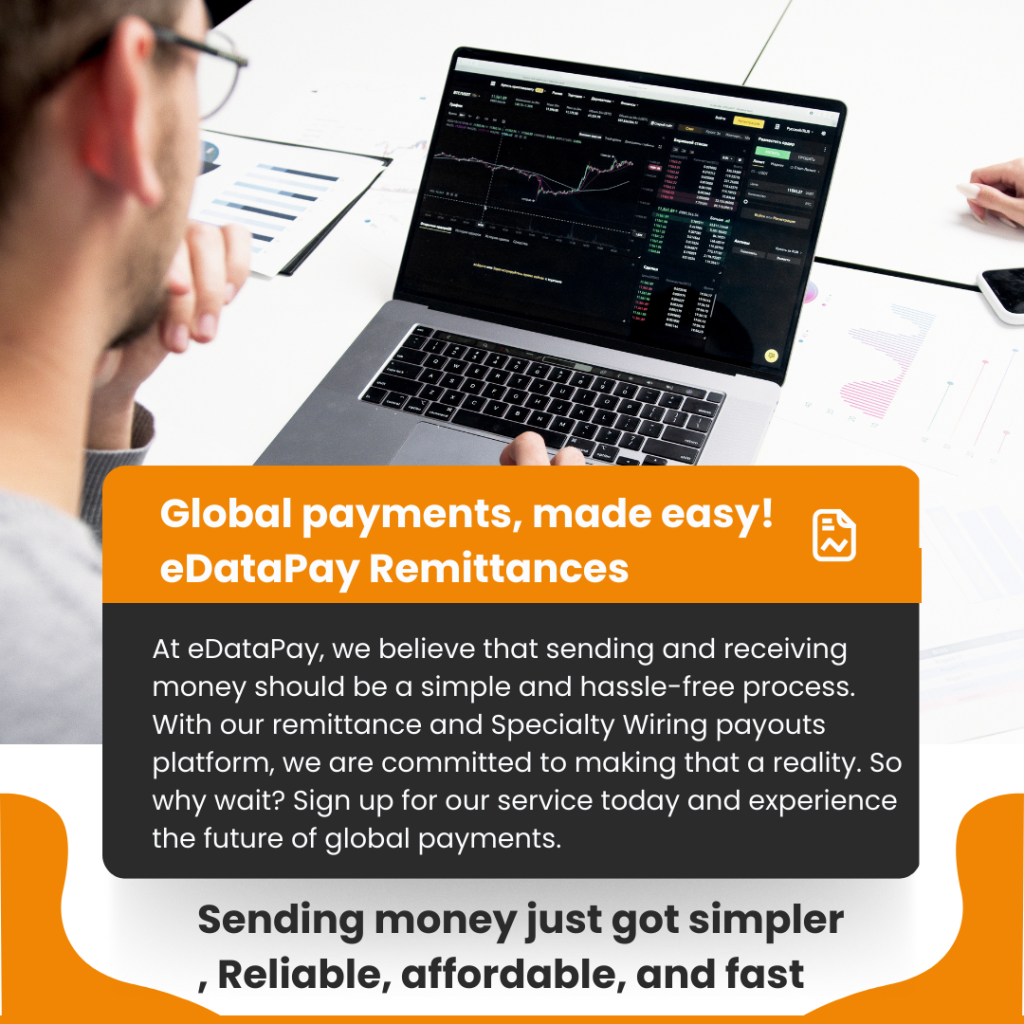 The new platform offers a number of advantages to clients looking to save their bank accounts from banks that are not interested in providing such services. With eDataPay, clients can send and receive wire transfers with ease, even if they are sending many wires. The platform's automated and secure KYC and AML features ensure that all transactions are fully compliant with regulatory requirements, saving clients time and money.
In addition to its robust compliance and security features, eDataPay's remittance and specialty wiring payouts platforms offer fast and efficient money transfer services at competitive rates. The platform is available for both domestic and international transactions, making it an ideal solution for individuals and businesses operating in today's global economy.
With eDataPay's remittance and specialty wiring payouts platforms, clients can enjoy hassle-free, secure and cost-effective money transfer services, without the need for traditional banking intermediaries. To learn more about the advantages of using eDataPay for your money transfer needs, visit our website or contact our team today.
https://www.facebook.com/edatapay
1-561-395-9554