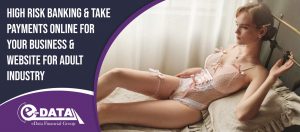 Credit Card , ACH, Crypto , Processing for Adults , Streaming, Toys and more
In the United States alone, the adult entertainment sector is worth billions of dollars. If you're a retailer of adult toys and products, you're well aware that demand for your items is consistent from one quarter to the next. It's a simple matter of providing the products and services that your consumers want to take advantage of that demand. This includes accepting credit and debit cards to make payment as simple and convenient as feasible.
Was your Business Turned Down for Adult Credit Card Processing?
Unfortunately, depending on your industry, you may have difficulty obtaining electronic payment services from traditional suppliers while looking for credit card processing. Let's face it: traditional financial institutions don't always want to be associated with the adult entertainment sector. The adult industry can be a reputational issue for these institutions. These banks may be unable to accept any business from this market due to organizational policy. If they learn about the things you're selling, they have the authority to terminate your merchant account. Your revenue would be instantly halted as a result of this. When it comes to potential chargebacks, the nature of the items and services can be concerning.
You should realize that EDataPay is unconcerned about its relationship with adult entertainment organizations. For years, we've effectively provided adult merchant services to adult product and service providers.
eDataPay's Approach to Adult Online and Toys Processing
At 3DataPay, we understand how difficult it is for adult entertainment merchants to obtain even the most basic merchant services. We are aware of it because we see it every day.
Adult entertainment firms are avoided by banks and credit card processing providers since doing business with them is against their official organizational standards. Adult entertainment is too risky for some vendors, while others simply don't want to be linked with it. The bad news is that those vendors are missing out on a big portion of revenue from one of the world's greatest businesses. One that grows every year. That, on the other hand, is fantastic news for us. We're glad to partner with adult entertainment businesses to provide credit card processing and other merchant services. We want your company to flourish, regardless of the industry you're in or if you need high-risk credit card processing.
You can obtain fast access to information on credit card processing and other merchant services available through EDataPay by calling us or filling out our online contact form. You'll find that we provide the most up-to-date credit card processing equipment, as well as guaranteed 24-48-hour deposits, affordable pricing, and dedicated account agents who can answer any questions you may have.
Products and Services We Support
We've previously provided merchant accounts to adult businesses that provide a diverse range of products and services. Given the industry's growth, we predict this list to grow considerably in the future. For the time being, here are some of our most popular adult markets:
Toys and Novelties
Lubricants and Lotions
Sex Education Courses
Online Dating
Streaming Services
Risque Video Games
Adult Photography
Phone Sex Operator
Fetish Items
Lingerie
and much more…
The Benefits of Opening an Adult Payment Gateway
You don't have to let your company suffer because you can't find a reliable electronic payment processor. Don't miss out on profitable prospects for your company! By contacting us, you may put an end to all of your concerns about electronic payments. We specialize in offering merchant services to businesses that our competitors see as high-risk.
If you've been seeking for a merchant services provider that will help you grow your business, EDataPay is the place to go. Let's get started on growing your company right now. We can collaborate as partners to provide your consumers with the ease of credit and debit card payments, whether they shop online or in your physical store.
A few of the benefits we specialize here at EDataPay include:
Easy Application Process
Access to Dedicated Representative
Quick and Stress-Free Underwriting
Access to a Unique Payment Gateway
Potential to Integrate with 100+ Platforms
Option to Order a Physical Terminal for Retail
Partnering with High Risk Experts for Adult Payment Processing
Create an account right now! Your dedicated account consultant will assist you in selecting the proper credit card processing equipment and will get you up and running in no time. You'll appreciate our devotion to customer satisfaction and payment processing with guaranteed next-day deposits.
If you're new to the adult entertainment industry, we recommend deferring sales until you've set up credit card processing. If you want your firm to succeed in today's economy, you'll need to accept electronic payments. We're here to assist you in making it happen in a method that is both convenient and secure.
EDATAPAY A COMPLETE PAYMENTS AND MEDIA ADVERTISING PLATFORM, ENGINEERED FOR GROWTH
LET US WORK FOR YOU TODAY
Payments for any business
From ecommerce stores, to subscription businesses, to platforms, Saas and marketplaces,
eData offer a complete stack for all your payments needs across channels.
To get approved for a merchant account in 24 hours
Apply here or call +1-561-395-9554.
Get In Touch with eDataPay Banking Specialist:
https://edatapay.com/application-form
Phone:
+1-888-395-9554
Fax:
+1-888-909-0138
Email:
info@eDataPay.com
US Mailings Address:
20423 State Road 7, Suite F6-524, Boca Raton, Florida, 33498 USA.