Your Premier Cannabis Credit Card Processor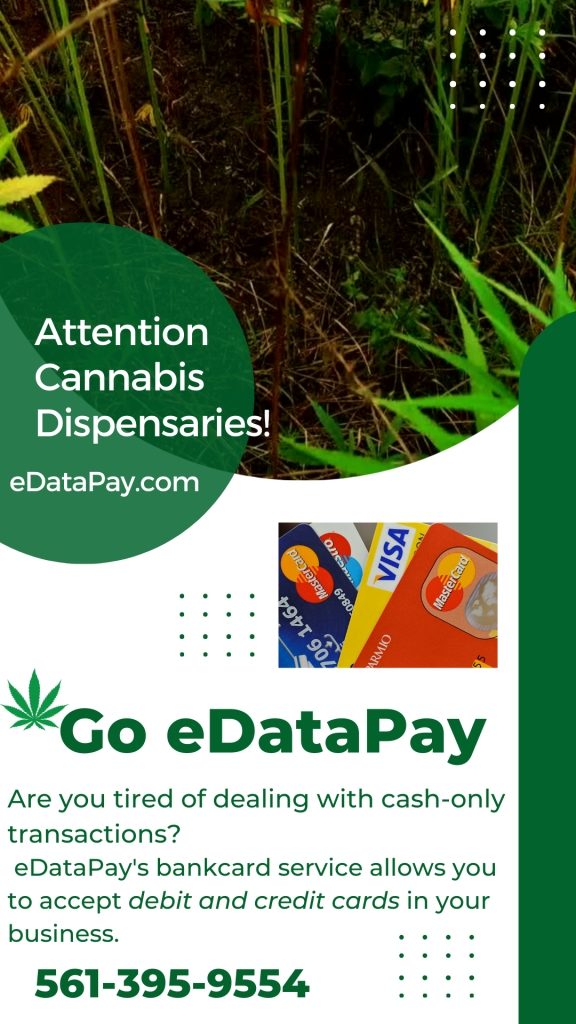 Are you the owner of a cannabis company trying to streamline your payment processing operations? There is no need to look any further! eDataPay is excited to offer the most advanced point-of-sale (POS) systems and terminals designed exclusively for cannabis sales. We make it easier than ever for your consumers to make safe credit and debit card transactions with the seamless integration of Visa and Mastercard.
Why should you use eDataPay? Here are a few persuasive arguments:
1 Cutting-Edge POS Solutions: Our cutting-edge POS systems are designed specifically for the cannabis industry's requirements. They include user-friendly interfaces, sophisticated inventory management tools, and real-time data to assist you in tracking sales and efficiently managing your firm.
2 Visa and Mastercard Acceptance: We recognize the necessity of accepting major credit and debit cards in order to provide your consumers with convenience. You can now safely handle Visa and Mastercard transactions with eDataPay, giving your clients the flexibility they want.
3 Compliance and Security: In the cannabis market, compliance with legal and regulatory regulations is critical. We value data security at eDataPay and use cutting-edge encryption technologies to protect critical client information.
4 Streamlined Operations: Our POS systems are designed to streamline your operations, allowing you to concentrate on what is most important: developing your business. Our solutions, which range from inventory management to automated reporting, are designed to maximize productivity while minimizing administrative responsibilities.
5 Dedicated Support: We take pleasure in providing great customer service and support. Our knowledgeable team is here to help you every step of the way, swiftly responding to any enquiries or technical concerns.
Don't put off improving your money processing capabilities any longer. Join together with eDataPay to take your cannabis business to new heights!
Visit our website or contact us immediately to get started with our cutting-edge POS systems and terminals. Let's change how you do business in the cannabis sector!