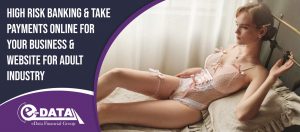 eDataPay Group have it's European team specialize in Adult high-risk merchant processing we customize each solution based on the needs of the businesses. It is very important to have a right payment provider for your processing needs as this decides the future of your online business.
ADULT MERCHANT PROCESSING
When seeking an ideal solution for adult merchant processing, which includes online dating, strip clubs, adult book stores, novelties, toys, and websites that require memberships for pornography, it can be a tedious process to successfully accept debit and credit cards.
An adult merchant account works like a bank account for your online store. As your customers purchase items from your website, the payment gateway transmits key information to your merchant account. After verifications and exchanging key data, the payment is transferred over and you see your revenue grow.
In some industries, such as those who need adult merchant accounts, it is difficult to just walk into a local bank and get a loan. There are many regulations and a process to follow first.
EDATAPAY A COMPLETE PAYMENTS AND MEDIA ADVERTISING PLATFORM, ENGINEERED FOR GROWTH
LET US WORK FOR YOU TODAY
Payments for any business
From ecommerce stores, to subscription businesses, to platforms, Saas and marketplaces,
eData offer a complete stack for all your payments needs across channels.
To get approved for a merchant account in 24 hours
Apply here or call +1-561-395-9554.
Get In Touch with eDataPay Banking Specialist:
https://edatapay.com/application-form
Phone:
+1-888-395-9554 , +1- 561-395-9554
Email:
info@eDataPay.com
US Mailings Address:
20423 State Road 7, Suite F6-524, Boca Raton, Florida, 33498 USA.