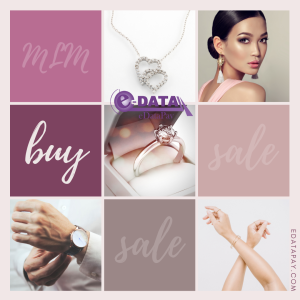 MLM Merchant Account with eDataPay Bankcard
MLM (multi-level marketing) merchant accounts are specialized payment processing solutions that are designed for businesses that operate using an MLM business model. In an MLM business model, a company sells products or services through a network of independent sales representatives, who earn commissions based on their own sales as well as the sales of other representatives they recruit.
If you have a business in this space, you know you need MLM credit card processing. While operating an MLM firm, a credit card processing platform will help you accept multiple forms of payments, reach more customers, and expand your business. However, many major financial institutions look at multilevel marketing merchant accounts as 'high risk.' The non-traditional business model exhibited in MLM firms have higher risk factors when their bank and payment processor do their normal underwriting procedures.
Multilevel Marketing Merchant Accounts
Multi-level marketing firms operate across a broad range of industries. Whether your business sells beauty products, jewelry, or toys, direct selling is an excellent business structure for scalable distribution.
MLM merchant accounts by eDataPay.com allow these businesses to process payment transactions for the sale of their products or services, as well as manage the commissions and other financial transactions associated with the MLM business model. These accounts may offer a variety of payment processing options, such as credit and debit card processing, electronic check processing, and ACH (automated clearing house) transactions.
MLM contractors typically purchase goods at a discounted price and then resell them to consumers for the correct market value. This is where MLM payment processing requirements come into play. Credit card processing proves beneficial at every stage of the buying and selling process. Whether you're the main distributor for an MLM company, or you're a reseller hoping to connect with customers in your area, a payment processor for multi-level marketing is vital to success.
Below, let's explore some common MLM business types that benefit from merchant accounts.
Apparel
Jewelry
Home Products
Health Products
Toys
Entertainment
Beauty Products
Fitness Products
and many more!
The MLM business model is applicable to almost any type of physical good or service, which means your options are almost limitless.
MLM Credit Card Processing is Hard to Place
MLM payment processing direct sales worldwide surpassed $190b in 2017, but this hasn't stopped credit card processors from refusing to work with MLM companies. Fortunately, if you find the right payment processor for multi-level marketing, you'll be able to accept credit card payments for your business. MLM companies will need to be particularly diligent about finding high risk payment processors that can accept the industry and their risk.
The MLM industry is associated mainly with reputational risk which results in pushback from traditional payment processing sources. Legal risks may also play a major role in MLM's designation as a high risk industry. Credit card processing firms do not want to associate with businesses that may fold due to legal volatility.
Multilevel marketing merchant accounts are tough to get approved. While all merchant accounts will require a review by underwriters, many traditional payment processors are extremely stringent with MLM companies. Extensive reviews of products, services, and marketing techniques will often result in a rejection, irrespective of the quality of an MLM company's business model.
Chargebacks Can Destroy an MLM Merchant Account
Chargebacks are common in this industry, which causes significant issues for MLM payment processing companies and supporting banks. Such an issue, in fact, that if an MLM merchant account accrues a chargeback ratio of more than 2%, fines and account closures can and will happen. This is not a reflection of your business in any way, it just means those banks have limited flexibility with chargebacks because of the monetary risk they pose.
Regardless of the risk of chargebacks, accepting credit card and debit card payments is critical to your success. Modern customers expect the same digital payment processing features that you find in major department stores and retail outlets. If you want to expand your business and reach new customers, you must obtain merchant services for multi-level marketing.
The Industry Leading Payment Processor for Multi-Level Marketing
If you're ready to add an MLM merchant account to your business, it's critical to choose the most trusted partner in the industry. At EData Financial Group, we provide advanced merchant services for multi-level marketing clients. Our team has a deep understanding of the MLM industry and the types of payment services required by businesses operating within the space.
Our business has the capabilities to support your company and the MLM credit card processing needs that come with it.
We have systems in place for mitigating reputational risk, implementing chargeback protection, and keeping you compliant with merchant services for multi-level marketing business practices. Our API integrations are designed to conform to your current third-party gateway — we support almost every gateways currently available on the market.
If you're hoping to partner with a payment processor that can fit into your current framework, EData Financial Group is an excellent solution.
Contact Us to Discuss Our MLM Credit Card Processing
Are you ready to expand your MLM business and its reach? Then it's time to partner with an MLM merchant account provider that can help your firm attain its goals. Our experience working with MLM companies ensures we're uniquely positioned to assist you in growing your business. If you're hoping to connect with new customers and increase payment processing options, our solutions can help.
It is important for businesses that use an MLM business model to carefully consider their payment processing options and choose a merchant account provider that offers fast and reliable service, as well as strong fraud protection measures to ensure the security of transactions. It is also important to ensure that the chosen payment processing solution is compliant with relevant laws and regulations in your jurisdiction.
Contact us to help you get set up with MLM credit card processing for your business' needs.
Contact Us Today
561-395-9554
888-395-9554
Text me: 561-212-3370