🚨𝗔𝗧𝗧𝗘𝗡𝗧𝗜𝗢𝗡 𝗨𝗦 𝗕𝗨𝗦𝗜𝗡𝗘𝗦𝗦 𝗢𝗪𝗡𝗘𝗥𝗦🚨
In today's competitive market, securing the best rates for merchant accounts is crucial for home service companies in Florida. This article eDataPay will guide you through the process of obtaining optimal rates for Visa, Mastercard, AMEX, Discover, ACH, and more, along with a complimentary state-of-the-art POS system to enhance your business operations.
Understanding Merchant Accounts
What is a Merchant Account?
A merchant account is a type of bank account that allows businesses to accept payments via credit or debit cards. It acts as an intermediary between the business, the customer, and the payment processor.
In today's local market most if not all business will need to have a great Website, maybe with or without eCommerce with products online but for sure you should and can give your clients the options to pay online with our Online invoicing platform and payment gateway.
Most service companies will also need a mobile payments for their service people which eDataPay will set you up with multiple payment APP for each service team if needed.
Why is a Merchant Account Important?
Having a merchant account enables businesses to offer convenient payment options to their customers, leading to increased sales and customer satisfaction. It also streamlines financial transactions, making record-keeping and reconciliation more efficient.
Researching Merchant Account Providers
Evaluating Fee Structures
To get the best rates, it's essential to compare fee structures from various merchant account providers. eDataPay is working with all the giants payment service provider in the USA and will look up to set you up with the best one for you and your business. Look for transparent pricing with competitive rates for processing fees, chargebacks, and monthly service charges.
Assessing Approval Rates
A reliable merchant account provider should have high approval rates, ensuring that your business can accept payments from a wide range of cards without disruptions.
Analyzing POS System Offerings
A complimentary POS system can significantly enhance your business operations. Look for a provider that offers a modern, user-friendly POS system tailored to the needs of home service companies.
Customized Solutions for Home Service Companies
Tailored Packages for Florida-Based Businesses
Choose a merchant account provider that specializes in serving businesses in Florida. They will have insights into the unique needs and challenges of the local market.
Free POS System for Enhanced Conversions
A complimentary POS system not only improves transaction efficiency but can also lead to higher conversion rates, ultimately boosting your revenue.
Streamlining ACH Transactions
Maximizing ACH Efficiency
For home service companies, ACH payments can be a cost-effective alternative to credit card transactions. Look for a provider that offers seamless ACH processing with competitive rates.
Ensuring Security and Compliance
It's crucial to partner with a merchant account provider that prioritizes security and compliance, especially when dealing with ACH transactions.
The Impact of AI on Jobs and the market
CEO Jamie Dimon expects some jobs will disappear, but he also suggests that companies will try to fit displaced workers into new roles. At JP Morgan, Dimon said, "If it replaces jobs, we hope to redeploy people." The good news is that it will not affect the service industry but will only make it grow. As more AI programs are trained and implemented, more roles previously left to humans will disappear.
FAQs
1. How long does it take to set up a merchant account?
Setting up a merchant account typically takes between 24 to 48 hours, but it may vary depending on the provider and the required documentation.
2. Are there any hidden fees associated with merchant accounts?
Reputable merchant account providers are transparent about their fee structures. Be sure to carefully review the terms and conditions to understand all associated costs.
3. Can I switch to a different merchant account provider if I'm not satisfied?
Yes, you have the flexibility to change providers if you're not satisfied with your current arrangement. However, be mindful of any contractual obligations or early termination fees.
4. What is the role of a payment processor in a merchant account?
A payment processor facilitates the transfer of funds from the customer's card to the merchant's account. They play a crucial role in ensuring secure and efficient transactions.
5. How can a POS system benefit my home service business?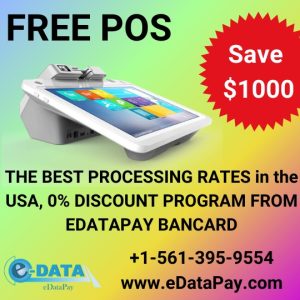 A POS system enhances transaction efficiency, tracks inventory, and provides valuable data insights. It can also improve the overall customer experience, leading to increased sales and customer loyalty.
Conclusion
Securing the best merchant account rates for your home service company in Florida with eDataPay is a pivotal step towards financial success. By conducting thorough research, evaluating customized solutions, and prioritizing security, you can optimize your payment processing operations.
eDataPay's reliable, efficient, and secure payment processing solutions. Join our Sales Partner or ISO Agent program today!
Please check out this page with much more information on credit cards processing and rates to get more understanding on this industry.
https://edatapay.com/cheapest-credit-card-processing-services/
Call us direct : 561-395–9554
or fill in the application online and get start:
https://edatapay.com/merchant-application/
Thanks
Adam Elisha
561-212-3370
adam@edatapay.com