Becoming an eDataPay Partner with US and International Banks
Are you curious about making money in an easy way? eDataPay might just be the perfect place for you! They help businesses handle the money people use to buy things. Imagine if every time someone bought something from a business you helped, you got a little bit of money too! It's like having a special money-making power.
In today's rapidly evolving business landscape, finding opportunities that offer both stability and growth potential can be a game-changer. For entrepreneurs and businesses looking to tap into the expansive world of payment processing, eDataPay presents an unparalleled partnership program. By becoming a reseller or ISO (Independent Sales Organization) with access to both US and International banks, you open the door to a revenue stream that flows whenever someone makes a purchase through the businesses you assist.
3 Easy task will make you great residual monthly commissions on all Bankcard profits banks and processors make from selling merchant accounts.
How eDataPay Helps Businesses today?
Bankcards Payments, Remittances, and Media advertising
eDataPay and Media really good at helping businesses with their Bank card, ACH or alternative payments thru POS, or Online.  eData use fancy technology and work with big banks bankcard providers in the United States and around the world. This means they can help businesses from all over the place.
"Don't let this opportunity pass you by. Join us at eDataPay and let's shape the future of payments together!"
What You Do as a Partner?
Get business to switch the merchant account to eData Financial Group or start/ Add merchant account by giving them: Newer Free POS Equipment, Better Rates, or a switch to Cash Discounts program by having the buyers pay the fees, You will make monthly commission.   If you want to be a partner with eDataPay, you'll be like a special helper. The payment consultant, or just offer the best rates. You'll talk to businesses and tell them about how eDataPay can help them with payments and save money. When a business says "yes," you'll make sure everything goes smoothly, so the business can start using eDataPay's help right away.
How You Make Money?
Here's the exciting part: every time someone buys equipment, Media advertising or get their Payments thru eData Group , you get a little piece of the money. It's like a special reward just for helping out! This happens over and over again, so you can keep earning money.
Residual income means you earn money every time a transaction is made. Don't wait, start building your financial future now!"
The Power of Payment Processing Partnerships
Understanding eDataPay: Pioneers in Payment Solutions
eDataPay has carved a niche as a leader in payment processing solutions. With a reputation for reliability, security, and cutting-edge technology, eDataPay is trusted by businesses worldwide. As a partner, you align yourself with a brand known for excellence in the industry.
The Role of Resellers and ISOs in the payment world
As a reseller or ISO, you act as a conduit between eDataPay and businesses seeking payment processing solutions. Your role is pivotal in facilitating seamless transactions and providing businesses with the tools they need to thrive in the digital economy.
The Financial Advantage: Making Money with eDataPay
The Commission Structure: A Lucrative Proposition
One of the most compelling aspects of joining eDataPay as a partner is the commission structure. Every time a customer makes a purchase through a business you've assisted, a percentage of that transaction flows back to you. This creates a continuous revenue stream, offering financial stability and growth potential.
Empowered by US and International Banks
eDataPay's partnership with both US and International banks ensures that you're not confined by geographical boundaries. This global reach means you can tap into markets worldwide, broadening your earning potential and diversifying your portfolio.
Seamless Integration, Satisfied Merchants
Streamlined Approvals: Speeding Up the Process
In the fast-paced world of commerce, efficiency is key. eDataPay's streamlined approval process means that businesses can get up and running in record time. This not only benefits your clients but also accelerates your revenue generation.
Merchant Services Bankcard FAQ
Here are some frequently asked questions about eDataPay's Merchant Services program:
Q: What types of businesses can benefit from eDataPay's Merchant Services?
A: eDataPay caters to a wide range of industries, including retail, e-commerce, restaurants, and more. Virtually any business that accepts payments can benefit.
Q: How quickly can my business start using eDataPay's services?
A: eDataPay's streamlined approval process allows businesses to get up and running in as little time as possible, often within a few business days.
Q: What types of payment methods can eDataPay process?
A: eDataPay supports a variety of payment methods, including credit and debit cards, digital wallets, ACH transfers, and more.
Q: Is eDataPay's platform secure and compliant with industry standards?
A: Yes, eDataPay places a high priority on security and compliance. Our platform adheres to industry-leading standards to ensure the safety of all transactions.
Q: How does eDataPay handle chargebacks and disputes?
A: eDataPay provides tools and support to help merchants effectively manage chargebacks and disputes, minimizing potential revenue loss.
Q: Can I integrate eDataPay's solutions with my existing business systems?
A: Yes, eDataPay offers flexible integration options to ensure compatibility with various point-of-sale systems, e-commerce platforms, and more.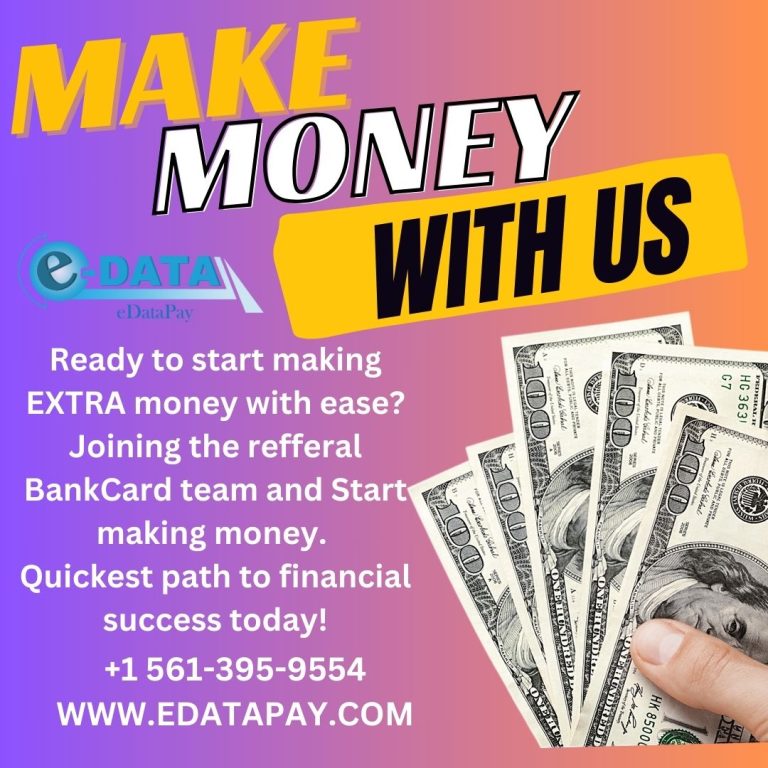 What is an ISO Reseller in the Bankcard World?
In the bankcard industry, an ISO (Independent Sales Organization) is an entity that partners with payment processors to sell their services to merchants. ISOs play a crucial role in facilitating payment processing for businesses. Here are key points about ISO resellers:
Independent Sales Force: ISO resellers operate independently and often have their own sales teams to acquire merchant accounts.
Aggregator of Merchant Accounts: ISOs aggregate merchant accounts under their own master merchant account. This allows them to negotiate better rates and provide additional services.
Risk and Underwriting: ISOs often handle the underwriting process for new merchant accounts, ensuring compliance with industry regulations and assessing risk.
Customer Support and Service: ISOs typically provide customer support and service to the merchants they serve, acting as a liaison between the merchant and the payment processor.
Revenue Sharing: ISOs earn revenue through a share of the processing fees collected from the merchants. This can be a lucrative business model, especially with a reputable payment processor like eDataPay.
Customized Solutions: ISOs often have the flexibility to offer customized payment solutions tailored to the specific needs of their merchants.
Becoming an ISO reseller with eDataPay opens doors to a wealth of opportunities in the payment processing industry, allowing you to leverage their extensive network of banks and cutting-edge technology to benefit merchants and grow your business.
Merchant Satisfaction: The Cornerstone of Success
Satisfied merchants are the lifeblood of any payment processing business. eDataPay's commitment to providing top-notch service ensures that your clients remain loyal, leading to long-term revenue streams and a thriving partnership.
Future-Proof Solutions for Sustainable Success
Staying Ahead of the Curve
In the dynamic world of payments, adaptability is crucial. eDataPay is at the forefront of technology, constantly innovating to provide future-proof solutions. As a partner, you have access to the latest advancements, ensuring that you're always ahead of the curve.
The Resilience of Payment Processing
Regardless of economic fluctuations, payment processing remains a resilient industry. By partnering with eDataPay, you position yourself in a sector with consistent demand, offering stability in an ever-changing business landscape.
Seizing the Opportunity: How to Get Started
Becoming an eDataPay partner is a straightforward process. Reach out to our dedicated partnerships team, who will guide you through the onboarding process. You'll gain access to a suite of resources, including marketing materials and training, to ensure your success from day one.
Conclusion: A Journey towards Financial Independence
Your Passive Income Powerhouse!
Becoming an eDataPay partner opens doors to a world of financial opportunity. With access to US and International banks, a robust commission structure, and a commitment to excellence, you're poised for success. Embrace this journey towards financial independence and join us in reshaping the payments landscape.
eDataPay – Your gateway to banking excellence and big commissions
Are you ready to embark on this transformative partnership? Contact us today and take the first step towards a prosperous future with eDataPay.
Call us direct : 561-395–9554
or fill in the application online and get start:
Merchant Application
https://edatapay.com/partners/
Thanks
Adam Elisha
561-212-3370
adam@edatapay.com
https://www.facebook.com/edatapay