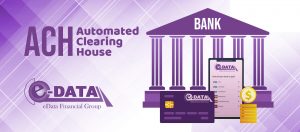 Automated clearing house
ACH
An automated clearing house is a computer-based electronic network for processing transactions, usually domestic low value payments, between participating financial institutions. It may support both credit transfers and direct debits.
What is ACH?
The ACH Network processes electronic financial transactions – such as Direct Deposit and Direct Payments – for consumers, businesses, and federal, state and local governments.
In batches,
ACHs
process high numbers of credit and debit transactions. Direct deposits, payrolls, retail payments, and vendor payments are examples of
ACH
credit transfers that are initiated by the payer. [5] The payee initiates
ACH
direct debit collections with pre-authorization from the payer; ACH direct debits include consumer payments such as utility bills, insurance premiums, mortgage loans, and other sorts of invoices. [5] During the day, the bank receives transactions, which are kept and sent to the ACH in batches. Because ACHs are net settlement systems, settlement might take days and there is some risk involved. ACHs may allow the transmission of a small amount of supplementary data in addition to payment instructions.
ACH payments contrast with real-time gross settlement (RTGS) payments which are processed immediately by the central RTGS system and not subject to any waiting period on a one-to-one basis. ACH systems are typically used for low-value, non-urgent transactions while RTGS systems are typically used for high-value, urgent transactions.
The ACH network is the system that makes it easy to send and receive money between bank accounts. Since more than 50 years ago, the ACH network has been in use. Most people agree that it is one of the safest and most reliable ways to process payments in the world.
The rules for how the ACH network works are set by NACHA.org, which is in charge of ACH payments. NACHA also tells participating depository financial institutions how to clear electronic payments between banks. Almost every bank in the US is part of the ACH network.
ACH credits are used to deposit paychecks, government benefits, tax refunds, and other payments directly into bank accounts. ACH debits are used to pay consumer bills, make payments from business to business, send electronic checks, pay for online purchases, and do a lot of other things that involve electronic funds transfer.
When your ACH merchant account is approved, you will be able to use both ACH debits and ACH credits.
PARTICIPANTS IN THE ACH NETWORK
There are four parts of the ACH network.
Originator.  An originator is an individual corporation or other entity that initiates and trees into the ACH network.
Originating Depository Financial Institution (ODFI)that originates an ACH transaction.
Receiving Depository Financial Institution (RDFI)that receives ACH entries.
Receiver.  The receiver is an individual corporation or other entity that has authorized ACH transaction.
Interested in more information on how ACH can help your business?
Contact eDataPay today!  info@edatapay.com.
Call:  888-395-9554
Text direct: 561-212-3370
eDataPay Payments Platform – Get More Sales Best Rates
Some extra Values for you by eDataPay :
FREE POS TERMINAL PROGRAM
SAME DAY PAYOUT (OR WITHIN 3 HOURS)
BEST RATES OR 0% PROCESSING FEES
FREE 30 DAYS SOCIAL MEDIA PACKAGE 101
FREE GOOGLE LOCAL LISTING AND LINKS