Introducing eDataPay: A Leading US Local Bankcard Payment Service Provider
In today's fast-paced digital landscape, businesses are constantly seeking ways to enhance their sales processes and streamline transactions. The eDataPay Global Payment Gateway emerges as a transformative solution, offering a seamless connection to numerous banks while significantly boosting sales approval conversions. In this article, we delve into the unparalleled advantages of utilizing the eDataPay Payment Gateway to revolutionize your business's financial operations.
The Features That Set eDataPay Apart:
Comprehensive Fraud Detection Mechanisms:
Security is of utmost concern in the digital realm, especially in financial transactions. eDataPay integrates state-of-the-art fraud detection mechanisms that provide multi-layered protection against fraudulent activities. This not only safeguards your business but also fosters trust among your clientele.
Multi-Currency Support for Global Expansion:
For businesses eyeing global expansion, the eDataPay Payment Gateway offers multi-currency support. This feature eliminates the complexity of international transactions, allowing customers to pay in their preferred currency. Such convenience enhances the customer experience and encourages cross-border sales.
Seamless Integration with Existing Systems:
Introducing a new payment gateway shouldn't disrupt your existing operations. eDataPay understands this, and its platform is designed for easy integration with your current systems. This compatibility ensures a smooth transition, without the need for extensive technical overhauls.
If you're a business owner, you know how important it is to have a reliable payment processing system in place. eDataPay is a US local bankcard payment service provider that offers secure, efficient, and affordable payment processing solutions for businesses of all sizes. With its cutting-edge point of sale (POS) systems, eDataPay is a one-stop-shop for all your payment processing needs.
Free Point of Sale Systems from eDataPay
One of the biggest advantages of working with eDataPay is that it offers free POS systems to its customers. This means that you can save money on hardware and setup costs and focus on growing your business. The POS systems are easy to use, fast, and convenient, and they provide businesses with a seamless payment processing experience.
Affordable Payment Processing
eDataPay is committed to providing affordable payment processing solutions to its customers. With its competitive pricing and no hidden fees, you can be sure that you're getting a fair deal when you work with eDataPay. In addition, its payment processing services are highly efficient, which means that you can process payments quickly and keep your lines moving.
Reliable and Secure Payment Processing
eDataPay uses the latest security technologies to protect your transactions and sensitive information. Whether you're processing payments in-store, online, or on the go, you can trust that your transactions are secure and protected. In addition, eDataPay is a reliable partner for businesses, with 24/7 customer support and a commitment to providing top-notch service.
Customizable Payment Processing Solutions
Every business is unique, and eDataPay understands this. That's why it offers customizable payment processing solutions that are tailored to meet the specific needs of your business. Whether you need contactless payment processing, mobile payment processing, or a specific type of card reader, eDataPay has you covered.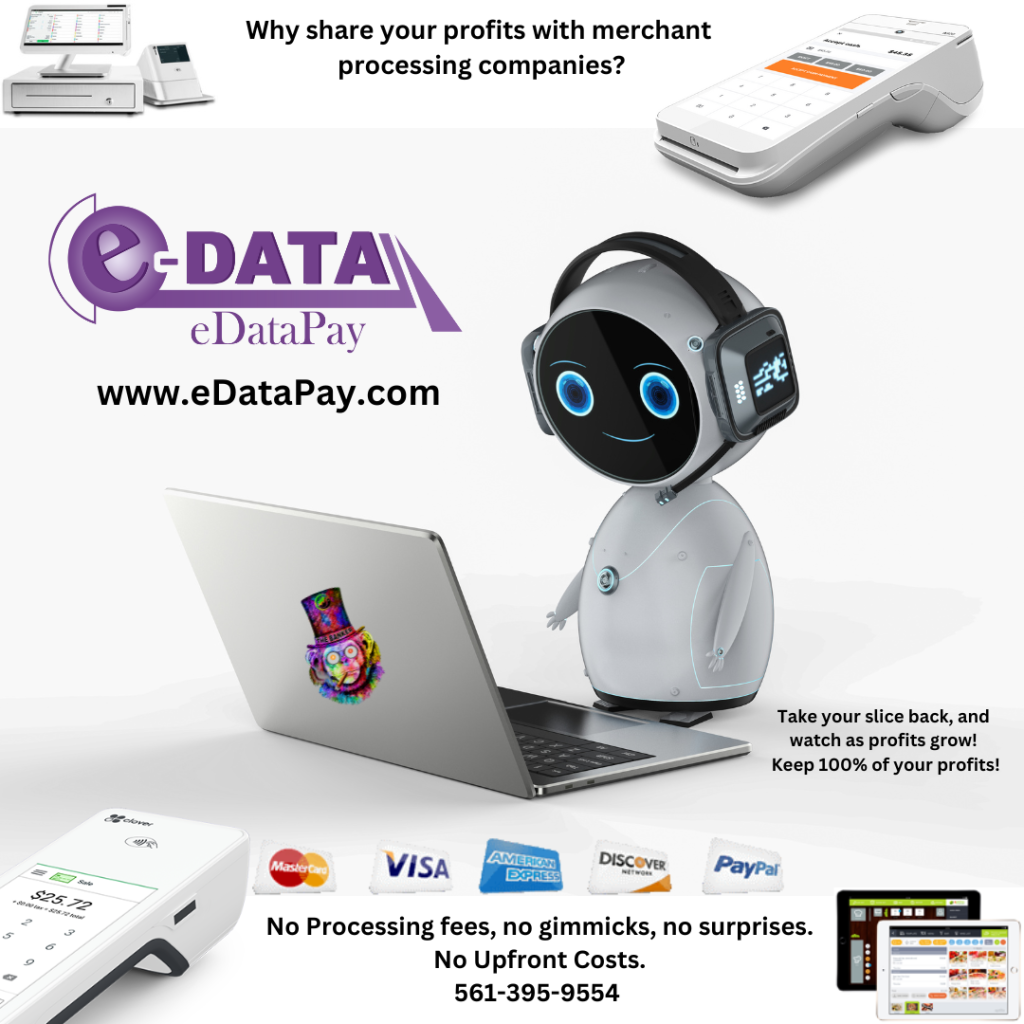 In conclusion, eDataPay is a leading local bankcard payment service provider in the US that offers free POS systems, affordable payment processing, reliable and secure payment processing, and customizable payment processing solutions. If you're looking for a payment processing partner that can help you grow your business, look no further than eDataPay.
eDataPay's reliable, efficient, and secure payment processing solutions. Join our Sales Partner or ISO Agent program today!
Please check out this page with much more information on credit cards processing and rates to get more understanding on this industry.
https://edatapay.com/cheapest-credit-card-processing-services/
Call us direct : 561-395–9554
or fill in the application online and get start:
https://edatapay.com/merchant-application/

Thanks
Adam Elisha
561-212-3370
adam@edatapay.com