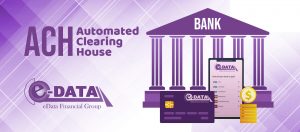 ACH  / eCheck / Online Checks / Check 21
ACH payment processing for businesses
A safer, speedy, and cost-effective way to pay and get paid.
High-Risk ACH Processing, Not a problem…
Pay and get paid faster with ACH payments
Setting up ACH payment processing is just as easy as getting set up to collect credit card payments – and ACH payments are just as easy for customers and clients to make online; ACH payments use a checking account and routing number instead of a credit card number.
Collecting your customers' banking info and authorizations online can be quite seamless – especially with the right ACH payment processor. A customer is going to have to grab a credit card and type in the number anyway, so there's no reason why you can't have them type in their banking info instead.
More small and medium-sized businesses than ever are switching to ACH payments because of the significant benefits compared to credit cards and checks.
Let eDataPay.com help you automate your accounts receivables and accounts payable with ACH payments.
Receiving payments from customers was once simple. The digital era, however, has made receiving payments more complicated yet also more efficient and effective, especially for holders of high-risk merchant accounts. Consider, for example, the transition from traditional checks — previously mailed to a vendor to complete a purchase — to electronic checks. With electronic checks, payments transfer instantly over the internet and receive verification and processing shortly after receipt.
Electronic check processing, typically called ACH or Automated Clearing House, is one term you might encounter in discussions involving payment processing although you'll sometimes see the term EFT, for electronic funds transfers, used instead. Businesses in high-risk industries should pay particular attention to the value offered by ACH processing.
While most people in the United States have at least one credit or debit card, an even greater percentage of the population has access to a bank account. This situation is doubly true for consumers in older demographics or those in low-income brackets. Since ACH processing requires a routing and account number, your customers can quickly make a purchase using this ACH or eCheck.
Sign up and pay your first bill on the same day, or send your first invoice within minutes. ACH setup means no more cancelled checks or paperwork.
Schedule vendor payments to maximize cash in your bank account and minimize processing times. Set up customers on recurring payments or auto pay, so you get paid on time and without effort.
Lower transaction fees
Reduce transaction fees for both payables and receivables and pay with a single flat rate–never a percentage.
Avoid the high costs of taking payments with credit cards, or using third-party check companies for payables.
eDataPay.com customers pay as low as  $0.49 for any ACH transaction and up.
561-395-9554